Let's LEARN How to have a 24/7 Reliable Power Supply
Uninterruptible Solar – The Sun never sets!
Let's take this step by step for a better understanding!
This is the most comprehensive solar energy package solution with multiple power back-up system. Before we get into what a hybrid solar solution is all about we need to understand the principle behind an on-grid solar system and an off-grid solar system.
Who should opt for the Hybrid Grid Solar System?
Best of Both Worlds
Consumers for whom On-Grid and Off-Grid systems are not suitable for various reasons
Regular Power Blackouts
Frequent Power Failure & very low-quality Grid supply with low voltage issues or dangerous power surges
Everyone
Suitable for all types of consumers in India like Urban or Rural, Residential or Commercial, Apartments or Industrial Factories
24*7 Reliable Solar
For everyone looking for 24*7 reliable electricity supply with a triple back-up system
Alternative Income
Those who want to earn money by selling extra solar power after taking care of their electricity needs
Economy & Ecology
Green Crusaders for carbon sequestration to tackle pollution & mitigate climate change
Advantages
Truly Uninterrupted Power
Multiple power back-ups (Solar Modules, Battery Bank & Utility-Grid) that provide a truly uninterruptible power supply experience.
Earn Income
Export Electricity generated back to the grid through a
Bi-directional meter & earn additional passive income.
Fossil fuel-dependent Diesel Generators are avoided.
Tax Benefits
Reap accelerated depreciation Tax Incentives for the Solar Renewable assets held (MACRS depreciation).
Save Money
Reduce High Electricity bills & minimize operational costs.
Protect against future electricity price hikes from local ESCOM or DISCOM (BESCOM).
Balancing Ecology & Economy
Reduce CO2 Emissions, Stop Air-Pollution and
Tackle Climate-Change
The need for a well-designed system from Experts at PlasmaSolar
In a Hybrid solar system, there will be a regular maintenance cost concerning the battery bank considering that Battery Technology has its limited lifespan. Yet, this is a small price to pay for the convenience of uninterrupted 24×7 reliable power supply. The battery backup system should be well designed by a Solar PV specialists based on a comprehensive study of the electrical load, power consumption patterns of the consumer throughout the year, and the local weather conditions with average solar exposure (solar irradiation or solar insolation). If not, then the Hybrid system will be under-designed and it can cause the following issues:

– Low solar energy generation due to inadequate system sizing
– Smaller battery size that may not fulfil your energy demands

Worst Case Scenario:
There may be times when even a professionally designed Battery back-up system may not suffice your increasing power consumption or there might be decreased solar units generation due to lack of sufficient solar insolation than normally expected (Act of God). One needs to be aware of this possibility as well even though it may happen in the rarest of rare cases. Even in such cases, the Grid Electricity is always available in a Hybrid system and there is no need to install a Diesel Generator.
The working of a Hybrid system …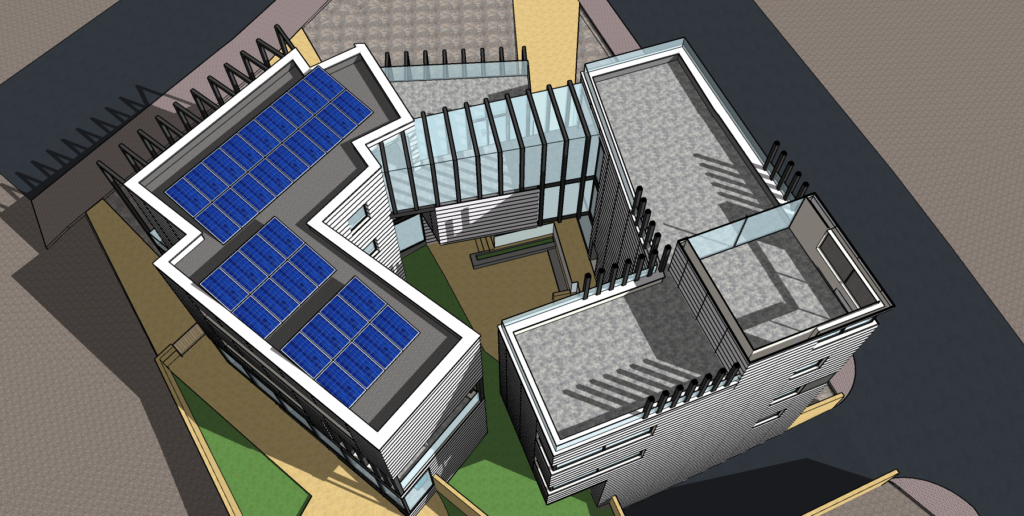 Case 1: 09:00 AM to 03:00 PM
The generated solar power is consumed by loads & used by the consumer for internal needs. Meanwhile, the batteries are fully charged simultaneously throughout the day and all the excess solar energy generation is exported and sold to the grid. Further, any shortfall in energy requirement is fulfilled by the import of electricity from the grid. All these processes happen seamlessly and automatically with the help of a smart solar hybrid inverter.
The extra solar energy produced is sold to the grid through a legally agreed-upon price with the local DISCOM (Example: BESCOM – Bangalore Electricity Supply Company Limited). This is called a Power Purchase Agreement (PPA) which will be a fixed price per unit for a period of 25 years.
Case 3: Cloudy Weather
During rainy days & the winter season when the Solar Insolation is low and solar electricity generation is reduced, the battery bank satisfies the electricity needs. But for the battery to support for a longer period of time, the Off-Grid system has to be well-designed taking into consideration the climate of the local region & also the electricity consumption pattern of the user. This is where PLASMASOLAR's experience in the renewable energy sector comes into play. Our well-seasoned & experienced engineers design the perfect system which can provide you uninterrupted power supply throughout the year.
Solar Power Production in India has very high potential in spite of the number of cloudy days. On-site Solar generation is being implemented across India and the captive consumption of solar will provide rich dividends in the longer period, especially to large power consumers.
If the battery is low or not charged enough due to low solar insolation, then they are charged by the power supply from the utility grid. The consumer electrical demands are met by the import of energy from the ESCOM company.
Case 3: Night-Time
During the night when the sunlight is absent, the battery single-handedly powers the energy needs of the consumer. Solar panels are completely in sleeping mode during the night and the power supply is from the battery alone. Again, this has been stressed enough that the off grid system needs to be well-designed by experienced professionals for a seamless and reliable power supply.
The charged solar batteries power up the consumer load and provide electricity throughout the night. If the battery is drained or is under maintenance, then the grid supports with a steady supply of electricity.